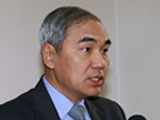 The Chinese ambassador to Iran says all the parties involved in the discussions on Iran's nuclear program should settle their differences in a constructive manner through continued negotiations and should refrain from taking any actions that might further complicate the situation.
"The parties involved in the Iranian nuclear issue should recognize the value of the enormous efforts already exerted, which must be saved from being made in vain. The continuation of negotiations is the most appropriate and realistic approach for the resolution of the issue. Only through negotiations can a solution be found that is in line with the interests of all the parties," IRNA quoted Ambassador Xie Xiaoyan as saying in the Iranian city of Arak on Sunday.
The Chinese envoy added that China will continue its support for the diplomatic efforts to find an early and appropriate solution to the issue within the framework of International Atomic Energy Agency regulations and will make constructive efforts to this end.
Beijing has frequently called on all sides involved in the talks over Iran's nuclear program to take a more "flexible and pragmatic" approach toward the negotiations.
"Dialogue and negotiation are the right ways of properly resolving the Iran nuclear issue, and there is still room for diplomatic efforts," Chinese Foreign Ministry spokeswoman Jiang Yu said on January 5. "We hope the relevant parties take more flexible and pragmatic measures and step up diplomatic efforts in a bid to resume talks as soon as possible."
Israel, along with the United States and its European allies — Britain, France, and Germany — accuse the Islamic Republic of covertly seeking to produce nuclear weapons, an allegation that Tehran vehemently denies.
The Islamic Republic of Iran insists that its nuclear activities are only conducted for civilian applications of the technology and generating electricity in order to meet the country's soaring demand for energy.
/Press TV/