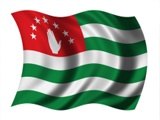 The Georgian National Communications Commission states Russia has failed to shut Georgian code 995 for Abkhazia. That is why the commission called on all international telephone operators to keep using the Georgian code for telephone communication with the republic, Kakhi Kurashvili, head of GNCC legal department told Interfax.
"We have reiterated our call to the International Postal Union (IPU) since the use of Russian code (7) for communication with Abkhazia is in violation of Georgian law and a legally punishable act", - Kurashvili said.
According to him IPU promised to mention Abkhazia's adherence to the old Georgian code in its annual bulletin.
A GNCC representative remarked that the Georgian side failed to block the Russian code (7) due to similar reasons.
"Thus we have two codes operating in parallel", - Kurashvili stated.
As GeorgiaTimes wrote earlier, on September 28 2009 Russia and Abkhazia signed a memorandum stipulating Russia's transfer of fixed and cellular connection codes to the republic. The document envisages granting Abkhazia telephone codes in the Russian numeration zone (with 7 as an international code).
Under the memorandum the republic obtained 840 as fixed connection code and 940 as cellular code.
/Georgia Times/