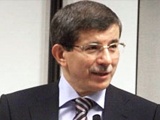 At the end of the day, it will be the European Union that will ask Turkey to join the 27-nation bloc, as Turkey will not lose its enthusiasm for becoming a full EU member despite the blocking of negotiations on new policy areas for political motives, Foreign Minister Ahmet Davutoğlu has said.
Davutoğlu was speaking with a small group of journalists during a flight from Ankara to Brussels on Sunday night before attending an intergovernmental conference with EU officials on Monday during which negotiations with Turkey on one new policy area, or chapter, namely the environment chapter, was opened. In addition to Davutoğlu, the intergovernmental conference was attended by State Minister and chief EU negotiator Egemen Bağış and Environment and Forestry Minister Veysel Eroğlu as well, while the EU was represented by Swedish Foreign Minister Carl Bildt, whose country will hand over the six-month long rotating presidency of the EU to Spain in January.
The EU opened accession negotiations with Turkey in October 2005. Countries hoping to join the bloc must fulfill requirements in 35 policy negotiating areas, or chapters. With yesterday's conference in Brussels, Ankara has so far formally opened 12 chapters, of which it has provisionally completed negotiations on just one, science and research. In addition to the eight chapters frozen due to a customs dispute since 2006, France has been blocking another five chapters that are directly linked to full membership and Greek Cyprus plans to block talks on six other chapters.
On his way to Brussels, Davutoğlu was reminded of assumptions that there are now only a few chapters remaining that seem available to be opened.
"The biggest block was at the time implemented against Britain and Spain. Accession into the EU is a result of a political will. If Turkey didn't have growing political power, this chapter [on environment] would not have been opened. Turkey's political clout will push the EU to make a review. EU will either be with Turkey or without Turkey. The big countries within the EU will have to make a strategic decision," Davutoğlu said in response.
"There is an ongoing negotiation process in Cyprus," he went on saying, referring to the UN-led reunification talks between Greek and Turkish Cypriot leaders. "Everybody should take responsibility. You have observed Turkey's activity in last six months. If we prepare the conditions, how can they block [the process]? Things are approaching a point where they will say 'Come, become an EU member.' Gross national income is moving toward $1 trillion. Who can say no to a Turkey like that?"
Another subject of Davutoğlu's question-and-answer session with journalists was Turkish citizens' exclusion from the EU's visa-free travel regime, the Schengen zone. Despite beginning accession talks in 2005, Turkey is not a part of the Schengen zone. The fact that visa requirements in Schengen zone countries were abolished on Saturday for citizens of Serbia, Montenegro and Macedonia led to anger in Ankara, with Davutoğlu saying Saturday that it was unacceptable that certain Balkan countries that are in the initial stages of the membership process and have not begun negotiations have been given Schengen privileges while Turkey, considering the level that Turkish-EU relations have reached, has not.
"The EU has to make a self-critique," Davutoğlu said on his way to Brussels, while voicing his determination to bring up the issue at every EU platform from now on.
"A country which has reached the level we have reached in negotiations should not have had such a problem," he said. Referring to EU pressure on Turkey to open its ports and airports to Greek Cypriot traffic, Davutoğlu added: "Our businesspeople are not able to introduce their services freely due to the visa regime. We expect the granting of free movement rights, particularly to our businesspeople, within the framework of the customs union [between Turkey and the EU]."
Earlier this month, while giving the go-ahead for opening another chapter with Turkey, the EU kept eight others frozen because of Turkey's failure to comply with a 2005 agreement to open its ports and airports to EU member Greek Cyprus. Ankara stated then that EU had surrendered to the Greek Cypriot lack of vision in a decision which ignored Turkey's active support of the ongoing reunification negotiations on the divided island of Cyprus. It also accused certain EU members of keeping silent on the unfair blockage of certain accession chapters due to pressure from EU-member Greek Cyprus.
Referring to the fact that the environment chapter is one of the most difficult chapters out of the 35 due to its extensive scope and high standards for compliance, Davutoğlu, meanwhile, said opening of this chapter was a sign of Turkey's determination to continue on the EU path.
"During talks with EU Troika in May, when we declared our intention to open the environment chapter, European officials had a cynical smile on their faces," he noted.
Cost of adjustment: 58 bln euros
Speaking on the same issue, Eroğlu explained how well Turkey has prepared for this chapter. The 400-page strategy paper for this chapter, which was jointly prepared by 26 institutions, was signed by 13 members of the Cabinet, Eroğlu said. "The cost of the environment chapter for Turkey will be 58 billion euros. Around two-thirds of this cost, 35 billion euros, will be paid by the state. The rest will be spent by the private sector," Eroğlu added.
/Todays Zaman/