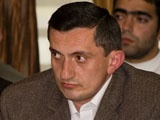 "Armenian-Turkish Protocols or 'Football Diplomacy,' was doomed to failure from the very start," said political analyst Armen Aghayan at at press conference in Yerevan today.
According to the analyst, the losses are currently unknown.
"In particular, with the signing of the Protocols, Armenia recognized Turkey's hegemony with respect to "Western Armenia" on quite a high level."
"If the Armenian-Turkish Protocols are ratified, the losses will be even greater," he said.
"Even greater endeavors will be demanded from Armenia's next governing leadership, to announce the measures taken during these days to be null and void," noted the analyst, who also pointed out the psychological losses.
"We lived a short life as a winning nation and now we are already easily adjusting to swallowing our losses."
Despite numerous opinions that Sargsyan was persuaded into playing this complicated game with Turkish diplomacy, Aghayan believes that the president knew about that from the beginning.
"He knew that the Turks had to talk about Karabakh and [he] knew how he was going to respond to them. The Turks knew as well."
The political analyst considers the current Armenian-Turkish process to be "a joint presentation organized for the people."
/Tert.am/