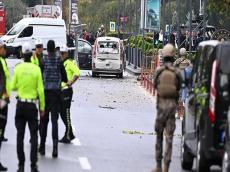 Two police officers were slightly injured when two terrorists on Sunday morning detonated a bomb in front of the General Directorate of Security in the Turkish capital of Ankara, with one of them blowing himself up, the interior minister said, Azernews repors citing Anadoly Agency.
"Two terrorists, who arrived in a light commercial vehicle in front of the gate of the General Directorate of Security, carried out a bomb attack. One of the terrorists blew himself up," said Ali Yerlikaya on X.
Yerlikaya said two police officers were slightly injured in the attack, which occurred at 9.30 a.m. local time (0630GMT).
A loud explosion was also heard in front of the Turkish Interior Ministry in the heart of Ankara in the morning.
Following the explosion and gunshots heard near the ministry building in Kizilay, the major city center in the capital's Cankaya district, police forces took increased security in the area.
The main Ataturk Boulevard was closed to traffic due to the explosion close to one of the gates of the Grand National Assembly.
Special operations police also were dispatched to the scene. The fire brigade and medical teams are also on the scene.
The Grand National Assembly will open in the afternoon after a 3-month break.