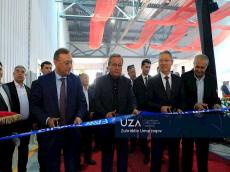 New plant for manufacturing trucks under the FAW brand was put into operation in Andijan, Uzbekistan, Azernews reports, citing Kabar.
The event dedicated to the opening of the new enterprise was attended by officials from the Ministry of Investment, Industry, and Trade of the Republic of Uzbekistan, the automotive industry of Uzbekistan, VUM dealer companies, partners, and representatives of the general public.
The Hokim of the Andijan region, Shukhratbek Abdurakhmanov, and the Chairman of the Board of Directors of FAW TRUCKS of China, Hu Hanjie, congratulated everyone on the launch of the new plant. It was noted that this enterprise would expand the automotive industry of Uzbekistan, economic growth, and meet the country's needs for freight transport.
This enterprise, created in the city of Andijan with Vodiy Universal-Majmua LLC and the FAW Group of China, will annually produce 4 thousand vehicles with a carrying capacity of more than 5 tons as part of a project with a total cost of $15 million.
Modern and comfortable trucks are planned to be sold on the domestic market and exported to neighboring countries.
When the plant reaches total capacity, 400 people will be provided permanent jobs.