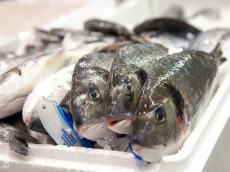 Russia is exporting fish products to 80 countries this year, Agriculture Minister Dmitry Patrushev said at the International Fisheries Forum in St. Petersburg on Wednesday, Azernews reports, citing Interfax.
"Despite all restrictions, we are now delivering our fish to 80 countries. In 2022 there were 60, in 2021 - 58. That is, we are working systematically. We can see that fish is in demand, and we are not sitting idly by, but opening new markets," he said.
At the same time, Russian fishermen continue to reorient towards markets of friendly countries, he said.
Bilateral fishing agreements with most coastal countries in Africa, North and South America are still in force, with some of them dating back to Soviet times, he said. The Russian fleet continues to operate in different parts of the Atlantic Ocean and the southeastern Pacific Ocean.
"We see great potential for developing cooperation with countries in the Asia-Pacific region, Latin America, Africa and the Middle East," Patrushev said, emphasizing that "Russia has been, remains and will be a reliable trading partner."
The Agriculture Minister recalled that in 2022, Russia increased exports of fish products by 4% to 2.2 million tonnes. At the same time, he drew attention to the fact that imports are systematically decreasing. "Last year it was by almost a quarter, and I hope that this trend will continue in 2023, he said. We will continue to increase the volume of supplies abroad and at the same time reduce imports," Patrushev said.
According to him, the fish catch this year may exceed 5 million tonnes compared with 4.9 million tonnes last year. More than 4.5 million tonnes have been caught so far, 11.5% more than last year. The salmon fishing season brought in almost 600,000 tonnes, 2.5 times more than in the same period last year. Production of commercial fish (aquaculture) will top 400,000 tonnes compared with 380,000 tonnes last year.
Russia's fish catch puts it among the five world leaders, the Minister also said.