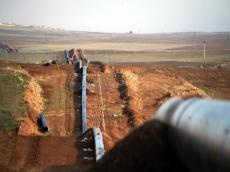 Türkiye has agreed to send natural gas via pipeline to Romania starting from Oct. 1 and running until March 31, 2025, the Turkish Petroleum Pipeline Corporation (BOTAS) announced on Wednesday, Azernews reports, citing Anadolu Agency.
The agreement between BOTAS and Romania's OMV Petrom, one of the largest energy companies in the region, will cover the export of up to 4 million cubic meters of natural gas daily to Romania.
Both companies also agreed to develop cooperation in the fields of transmission, storage, production, green energy technologies, as well as in the natural gas trade, BOTAS said.
The deal is the latest in a number of pipeline gas export agreements between Türkiye and neighboring countries.
BOTAS entered into agreements to send gas to Greece, Bulgaria and Hungary over the previous months.
Within three years, BOTAS hopes to rank among the top 10 exporting enterprises in Türkiye. In light of this, the corporation is pursuing new export deals through negotiations with other countries and businesses.