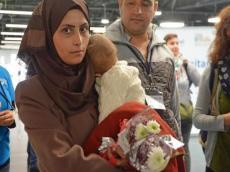 A group of 48 Syrian refugees including 18 minors landed at Rome's Fiumicino airport on Tuesday morning via a humanitarian corridor from Lebanon on the initiative of the lay Catholic association Community of Sant'Egidio and Protestant churches in Italy, Azernews reports, citing ANSA.
A further group of 48 people, including 21 minors, will arrive on a second plane on Thursday.
The refugees have been living in camps in Lebanon's Akkar and Beqaa Valley regions and in precarious accommodation on the outskirts of Beirut, many for several years.
The refugees have been brought to Italy under the Humanitarian Corridor programme launched by Sant'Egidio, the Italian Federation of Protestant Churches, the Waldensian Table and Caritas in the wake of the October 3 and 11, 2013 shipwrecks off Lampedusa in which respectively 368 and 268 people, mainly from Eritrea in the first shipwreck and from Syria in the second, lost their lives.
So far around 6,500 refugees have been brought to Europe under the programme, of whom over 2,650 to Italy from Lebanon.
The new arrivals will begin their new life in Italy in 11 regions.
Some will stay with family members who arrived in the country via previous corridors and have since integrated, while others will stay in accommodation made available by Italian families and associations, which will also support them in their integration and inclusion in Italy.