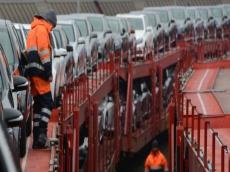 The exporting and re-exporting of imported vehicles from the European Union member states to Russia and Belarus are prohibited from Georgia starting Septembe 26, as part of the international sanctions imposed against Russia for its invasion of Ukraine, the Revenue Service of Georgia's Ministry of Finance said on Tuesday, Azernews reports, citing Agenda.
The prohibition applies to vehicles with engines larger than 1,900 cubic centimetres, as well as all electric and hybrid vehicles, regardless of their value, the Service noted.
The body has banned the export and re-export of US-imported vehicles to Russia and Belarus from Georgia starting from August 1.
In its statement in August, the Service said the decision was taken in line with the 11th package of sanctions against Russia adopted by the EU in June.