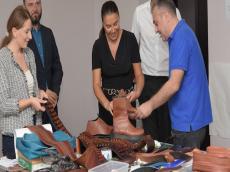 Handmade craft items made by inmates, probationers and former prisoners in Georgia are being presented at the Micam & Mipel Milano exhibition for the first time between Sunday and Wednesday with the support of Georgia's export promotion agency Enterprise Georgia, Azernews reports, citing Agenda.
Mikheil Khidureli, the Director of the agency, called the highlight an "unprecedented case" of "thousands of visitors" of the large international exhibition discovering handmade items of Georgian inmates.
We are glad to offer handmade craft items made by our inmates, probationers and former prisoners for the first time this year to foreign buyers and consumers", Khidureli said.
About 1,500 companies from 130 countries are featured in the exhibition attended by 45,000 buyers, the state body said.
Items made in Georgia and showcased at the event include leather wallets, belts, bags and accessories, with their showcase made possible after the Professional Training and Retraining Centre for Convicts and the agency signed a memorandum.
The items are produced through Re-Market, a resocialisation market of the Ministry of Justice of Georgia, which enables inmates to have a source of income.
Made at production facilities at penitentiary venues using three-dimensional printers and gravure hardware, the accessories are then sold at a Re-Market store in Tbilisi.