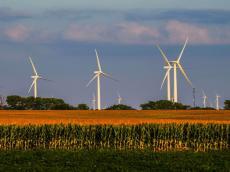 German Foreign Minister Annalena Baerbock, who arrived in Kyiv on Monday, has unveiled her country's plans to build a wind power station in the Chornobyl exclusion zone, Azernews reports, citing Interfax.
"We support the development of renewable energy sources. One of these projects is the construction of a wind farm in the exclusion zone of the Chornobyl Nuclear Power Plant," Baerbock said at a joint press conference with Ukrainian Foreign Minister Dmitry Kuleba in Kyiv.
Work is ongoing to ensure even more profound integration between the European energy system and Ukraine's, she said.
Baerbock signed a corresponding declaration of intent at a meeting at Ukraine's Ecology Ministry, the ARD German television channel said.