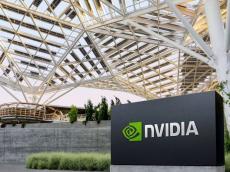 Nvidia Corp (NVDA.O) is close to breaching $1 trillion in market capitalization, putting it on track to become the first chipmaker to join the trillion-dollar club, Azernews reports, citing Reuters.
The gaming and AI chip company, whose shares rose 4.4% in trading before the bell on Tuesday, was valued at $1 trillion.
Taiwan Semiconductor Manufacturing Co Ltd (2330.TW) is the next largest chipmaker globally, valued at $535 billion.
Meta Platforms Inc (META.O), valued at about $670 billion as of last close, clinched the trillion-dollar market capitalization milestone in 2021, while Apple Inc (AAPL.O), Alphabet Inc (GOOGL.O), Microsoft Corp (MSFT.O) and Amazon.com Inc (AMZN.O) are the other U.S. companies that are part of the club.
Wall Street analysts called Nvidia's forecast "unfathomable" and "cosmological", hiking their price targets in droves. The highest price target valued the company at about $1.6 trillion, on par with Google-parent Alphabet.
"Given the valuation is well above the long-term average, there will be significant pressure to deliver high growth on a consistent basis ... there could be volatility in its share price to come," Susannah Streeter, head of money and markets at Hargreaves Lansdown, said.
AI took center stage after Nvidia stunned investors with a revenue forecast last week that surpassed analysts' expectations by more than 50%.
"Nvidia is the poster child for AI at the moment," said Thomas Hayes, chairman at Great Hill Capital. "The market is coming to terms with if this AI trend is real."
Nvidia's shares rose about 25% last week sparking a rally in AI-related stocks and boosted other chipmakers, helping the Philadelphia SE Semiconductor index (.SOX) close on Friday at its highest in over a year.
OpenAI-owned ChatGPT's rapid success has prompted tech giants such as Alphabet and Microsoft to make the most of generative AI, which can engage in human-like conversation and craft everything from jokes to poetry.