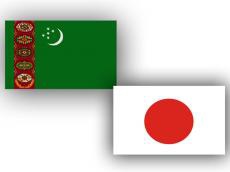 Turkmenistan and Japan discussed issues related to the development of comprehensive cooperation.
These issues were discussed during the meeting of the State Minister of Foreign Affairs of Japan Kenji Yamada with the Ambassador of Turkmenistan to Tokyo Atadurdy Bayramov.
During the meeting at the Japanese Foreign Ministry, the sides discussed topical issues related to the organization of joint events and meetings that were scheduled for 2023, and also discussed the development of bilateral cooperation between the two states in political, diplomatic, trade, economic, cultural and humanitarian areas.
At the same time, they stressed the progressive nature of the development of cooperation between Japan and Turkmenistan in various fields, and also noted high potential for increasing partnership cooperation both in the bilateral format and as part of international organizations.
Meanwhile, the Turkmen delegation took part in Central Asia - Japan Business Dialogue on February 21, 2023, which took place in Tokyo, the capital of Japan.
The event was organized by the Japanese ROTOBO Trade Association with the support of the Ministry of Economy, Trade and Industry and the Ministry of Foreign Affairs of Japan.