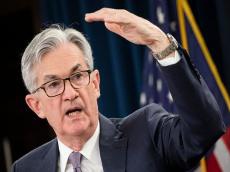 Federal Reserve Chair Jerome Powell said Wednesday that banking issues in the US could undermine the whole system if they remain unchecked.
"In the past two weeks, serious difficulties at a small number of banks have emerged," he said at a news conference in Washington, D.C. after the conclusion of the Fed's two-day monetary policy meeting.
"History has shown that isolated banking problems, if left unaddressed, can undermine confidence in healthy banks and threaten the ability of the banking system as a whole to play its vital role in supporting the savings and credit needs of households and businesses," he said.
The Fed raised its benchmark interest rate Wednesday by another 25 basis points despite a banking crisis, which saw the sudden demise of four banks in a matter of weeks.
"That is why, in response to these events, the Federal Reserve, working with the Treasury Department and the FDIC (Federal Deposit Insurance Corporation), took decisive actions to protect the US economy and strengthen public confidence in our banking system," he said.
The Fed chair emphasized that recent actions ensured that ample liquidity is available in the system, which has strong capital.
"These actions demonstrate that all depositors savings and the banking system are safe," he added.
Silvergate Bank, Silicon Valley Bank (SVB), Signature Bank and First Republic Bank have gone under within a couple of weeks, causing panic for Wall Street and investors, and especially depositors.
Powell said it is "too early" to assess the effect of the banking crisis but he is optimistic about a soft landing -- a situation where the bank raises rates too much and too high that leads to an economic slowdown but avoids a recession.
"I think that pathway still exists, and you know, we're certainly trying to find it," he said.
"There will be some tightening conditions that would have the same effects as our policies do," he said. "We think many banks are well telegraphed to the market and many banks managed to handle them."
Regarding contagion of the banking crisis on the entire system, Powell said the decision by government agencies took into consideration those risks.
He noted that inflation in goods has been coming down for the past six months but said the Fed will keep paying attention to incoming macroeconomic data when it considers further rate hikes.