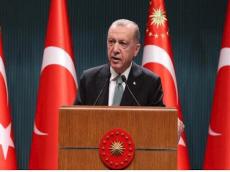 "The People's Democracy Party (HDP) is equal to the terrorist organization PKK and YPG/PYD. Where is the place of the Republican People's Party (CHP) in this equation, let my people think."
Turkish President Recep Tayyip Erdogan said this in an interview jointly broadcast by NTV and STAR TV.
He noted that HDP has been a partner of the 'Nation Alliance' [Table of 6] since the beginning.
Erdogan also emphasized that he has no doubt that the Republican Party will win the elections held on May 14.
In addition, he said that other political parties have no problems with Karabakh, Libya, UAVs and other national issues.