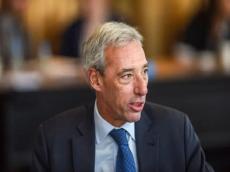 Türkiye, from a geostrategic perspective, is central to NATO and an extremely valuable member since 1952, the top Portuguese diplomat has said, suggesting a closer dialogue between Türkiye and Sweden for the latter's advancement to becoming an alliance member, along with Finland.
"NATO is a security alliance and Türkiye is an extremely valuable ally since 1952. We joined NATO in 1949 and worked with Türkiye in different scenarios over the years. Türkiye, from a geostrategic perspective, is central for NATO," Portugal's Foreign Minister Joao Gomes Cravinho said in an interview.
Cravinho was in Ankara for official talks with Foreign Minister Mevlut Cavusoglu and Trade Minister Mehmet Mush. He and Mush co-chaired the JETCO meeting with the participation of businessmen from both countries.
On Sweden and Finland's application to NATO, Cravinho recalled that all the allies should feel comfortable during the transformation of the alliance and the expansion of it with two new members constituting a new transformation for the alliance. "Therefore, everybody should be comfortable and Türkiye should be comfortable in this context," he said, referring to a trilateral agreement Türkiye, Sweden and Finland signed in 2022 that stipulates a road map for the two Nordic states to join NATO.
The minister recalled that Finland's bid is moving forward but there is problem with the Swedish process. "Sweden made some very important steps. It changed its constitution, and it should be seen that changing constitutions is a very significant move. The Turkish side is saying that Sweden made these steps on paper and not on practical terms," explained Cravinho.