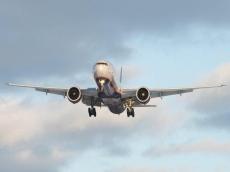 By  Trend
Turkish Airlines (THY) plans to increase the number of flights between Istanbul and Tashkent as well as between Istanbul and Samarkand, THY Vice President of Sales Tuncay Eminoglu said, Trend reports referring to Uzbek media.
From April 2019, the number of flights between Istanbul and Tashkent are to be increased to twice a day, and between Istanbul and Samarkand – to thrice a week.
"Uzbekistan is a very important and promising market for us. Citizens of Uzbekistan are interested in flying to Turkey, and citizens of Turkey are interested in visiting Uzbekistan. The abolition of visas [for Turkish citizens] has contributed to the growth of air traffic. Relations between our countries have noticeably improved," Eminoglu said.
He noted that in addition to Turkish citizens, tourists from other countries, especially from Europe, fly to Uzbekistan as well, therefore, THY is interested in the development of this direction.
"The airline is interested in opening flights to other cities, in particular, to Bukhara. We have always viewed Bukhara as a potential destination, and would like to fly there. We are negotiating on this issue with our partners – "Uzbek Airlines", the representative of THY said.
Eminoglu also noted that with the increasing number of flights to Uzbekistan in 2019, THY's pricing policy could be revised, and even now, in the winter period, significant discounts are offered for tickets to Istanbul.
The vice-president of THY also announced that from Jan. 1, flights to Istanbul will be transferred from Ataturk Airport to the new airport, which will become the largest in the world. The airport was opened on Oct. 29, on the Republic Day of Turkey, and so far three local and two international flights are operated from it.
It is expected that after full commissioning, the airport will have six runways (now – three) and will be able to serve up to 200 million passengers per year (90 million at the first stage), and its contribution to Turkey's GDP in 2025 will be 4.9 percent. There will also be the world's largest cargo terminal with a handling capacity of 5.5 million tons of cargo and the largest aircraft maintenance center.