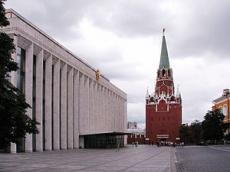 By  Trend
The Russian-US summit meeting between Vladimir Putin and Donald Trump in Helsinki last summer was tough, but only from the standpoint of the straightforward questions discussed, Russian presidential spokesman Dmitry Peskov told the media on Monday, TASS reports.
In this way he commented on Trump's remark in a CBS interview his summit meeting with Putin in Helsinki was "very tough."
"All questions were put in a very straightforward manner. In this respect the meeting was really tough, because both presidents openly mentioned the annoyances that there exist in bilateral relations," Peskov said. "The problems were frankly called their real names. In that sense the meeting was tough," he added. "As for the manner of the conversation - if he went beyond diplomatic politeness - well, he did not. Everything was within the established bounds."
He recalled that Putin himself told a news conference the questions were discussed at the summit in a very straightforward way.
Earlier, Trump said he followed a hard line in relations with Putin. The interviewer asked Trump why he avoided criticizing the Russian president. "You don't know what I talked about with Putin in the meeting prior to the press conference. I'm the one that gave Ukraine offensive weapons and tank killers." He recalled that his predecessor Barak Obama had refrained from that decision and also was "the one that gave away a part of Ukraine," to Russia.
"I think I'm very tough with him personally. I had a meeting with him. The two of us. It was a very tough meeting and it was a very good meeting," Trump said about Putin.
Putin and Trump met in Helsinki on July 16. The Russian leader spoke highly about the results of that summit, but at the same time remarked that nobody had ever expected all problems in bilateral relations would be resolved.