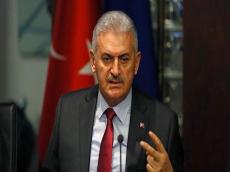 By  Trend
The Chairman of the Great National Assembly (Parliament) of the Republic of Turkey Binali Yildirim will arrive in Uzbekistan on September 23 with an official visit, the Uzbek news agency "Podrobno.uz" reported.
"It is expected that the Chairman of the Turkish Parliament will be received by the President of Uzbekistan Shavkat Mirziyoyev," the press service of the Ministry of Foreign Affairs of Uzbekistan said in a statement.
The program of the visit of the Turkish delegation includes meetings and negotiations with the heads of the chambers of the Parliament of Uzbekistan, representatives of the Cabinet of Ministers, a visit to Samarkand and Bukhara cities.