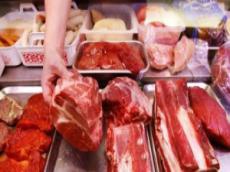 By  Trend
Prices for beef and horse meat have risen in Kazakhstan by 8 percent over the year, finprom.kz reported on Aug. 7.
Mutton has risen in price by 6 percent and only chicken prices have fallen by 2 percent.
Consumption of meat and meat products by households in 1Q2018 amounted to 19.5 kg per capita on average; growth for the quarter was 0.8 percent, while for the year 6.7 percent.
In urban areas consumption of meat and meat products amounted to 19.9 kilograms on average per capita, while in rural areas it was 18.8 kilograms.
The most popular meats in Kazakhstan are beef (6.4 kg per capita), horse meat (1.5 kg) and lamb (1.2 kg).
At the same time, the highest annual increase in prices was for pork (8 percent), beef (7.9 percent) and horse meat (7.8 percent).
(348.8 KZT = 1 USD on Aug. 7)