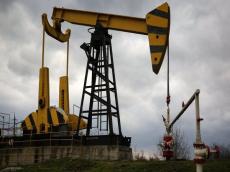 By  Trend
Oil prices fell more than 2 percent towards $77 a barrel on Friday as Saudi Arabia and Russia said they were ready to ease supply curbs that have pushed crude prices to their highest since 2014, Reuters reports.
Russian Energy Minister Alexander Novak and Saudi counterpart Khalid al-Falih met in St. Petersburg to review the terms of the global oil supply pact that has been in place for 17 months.
The ministers, along with their counterpart from the United Arab Emirates, discussed an output increase of about 1 million barrels per day (bpd), sources told Reuters.
Brent crude futures LCOc1 were down $1.51 at $77.28 a barrel by 1015 GMT, having hit their highest since late 2014 at $80.50 this month.
U.S. West Texas Intermediate (WTI) crude futures were at $69.34 a barrel, down $1.37.
Speaking in St. Petersburg, Falih said the easing of restrictions on pumping levels would be gradual to avoid a shock to the market.
He also said the main concern over the recent price rally to more than $80 a barrel should be the impact on onsumer nations such as India and China.
"The debate about a possible relaxation of the production restrictions should preclude any renewed price rise," Commerzbank analysts said.
"The $80 mark is likely to pose an obstacle that is difficult to overcome because it would significantly raise the probability of a production increase."