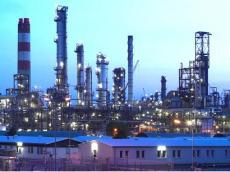 By Azernews
By Kamila Aliyeva
Foreign companies are showing great interest in the project of the Jizzakh oil refinery construction in Uzbekistan.
General Director of Jizzakh Petroleum JV LLC Shokir Fayzullayev held negotiations with representatives of FESCO, one of the leading public transportation and logistics companies in Russia, and Axens, an international provider of advanced technologies and services to the refining, petrochemical, gas and alternative fuels industries.
Russian and French companies are interested in developing partnerships within the framework of the largest project to build the Jizzakh oil refinery complex.
During the talks, issues of the significance and cost-effectiveness of this facility was considered. Leading international companies participated in its design and it was carried out taking into account advanced technologies of deep processing of hydrocarbon raw materials.
A distinctive feature of the technologies in the new complex will be flexibility in processing various types of hydrocarbon raw materials with maximum production of a wide range of petroleum products in demand on the world market.
The parties discussed possible mechanisms for and promising areas of cooperation.
The advantage of the new refinery is that it will receive raw materials from the fields of Russia and Kazakhstan via the pipeline.
One of the threads of the Omsk-Pavlodar-Shymkent oil pipeline is already stretched to the area near the Jizzakh region. From there, a pipeline with a length of 100 kilometers will be laid to the complex, which will allow providing the refinery with raw materials at minimal cost.
The enterprise will annually process up to 5 million tons of oil and produce 3.7 million tons of motor fuel corresponding to the Euro-5 standard, more than 700,000 tons of aviation kerosene, as well as liquefied gas, mazut, bitumen and other products.
The complex is designed by Wood-Amec Foster Wheeler. In addition, White & Case acts as a legal consultant, Argus Media - as a marketing consultant, Gazprombank as a financial and ERM - as environmental consultants.
To date, framework agreements have been signed to participate in financing the project with leading banks, such as Korean Eximbank, the State Development Bank of China, Gazprombank and Credit Suisse.