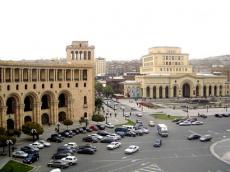 Trend:
Leader of the Armenian opposition, organizer of the protests in Armenia, Nikol Pashinyan will be nominated by the Yelq faction for the post of Prime Minister, MP Edmon Marukyan told Sputnik Armenia on April 25.
The MP noted that 53 parliamentary votes from a total 105 are required for Pashinyan's election. While, the Yelq and Tsarukyan factions together provide 40 votes, the opposition hopes to get 13 votes from the Republican Party of Armenia (RPA).
One of Nikol Pashinyan's demands is to hold early parliamentary elections.