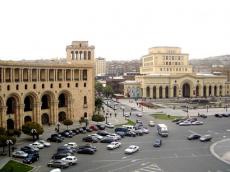 Trend:
The opposition of Armenia will not take a break until it reaches its goals, said Armenian opposition leader Nikol Pashinyan, according RIA Novosti.
"There will be no break until the logical conclusion of our revolution. Tomorrow we will hold a rally on the Republic Square. We are capable of organizing an event in an hour, even half an hour. We control the situation and have the support of our people," Pashinyan said.
The logical conclusion of the revolution, he said, is the appointment of a candidate from the people as prime minister.
Mass rallies broke out in Yerevan and other Armenian cities on April 13 following former Armenian President Serzh Sargsyan's nomination as prime minister. The opposition accused him of ineffective governance and worsening the economic situation in the country.
On April 23, Serzh Sargsyan resigned as Armenian prime minister.