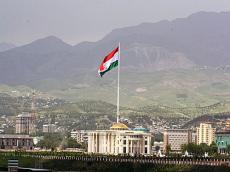 By  Trend
Tajik President Emomali Rahmon met with Iranian Foreign Minister Mohammad Javad Zarif, who has visited Tajikistan to attend the 23rd meeting of the Council of Foreign Ministers of the Economic Cooperation Organisation (ECO), which is taking place in the Tajik capital, News.tj reported on April 17.
The Tajik president's official website stated that Rahmon and Zarif discussed various aspects of bilateral mutually beneficial cooperation between Tajikistan and the Islamic Republic of Iran.
They, in particular, discussed issues related to cooperation between Tajikistan and Iran in the fields of commerce, energy, transportation, industry, agriculture and culture.
The Tajik leader and the Iranian foreign minister also discussed bilateral cooperation between Tajikistan and Iran in the field of security, according to the Tajik president's website.
Besides, Rahmon and Zarif discussed a number of regional and international issues of mutual interest.
IRNA news agency reported that given cultural commonalities, the two sides in the meeting called for expansion of mutual relations and cooperation in various political, economic, cultural, energy and technological know-how sectors.
During the meeting of the ECO Council of Foreign Ministers, the foreign ministers of the member-states are expected to discuss various issues such as expansion of economic cooperation between the member-states.