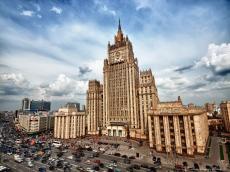 By Kamila Aliyeva
Washington-Moscow ties are experiencing another unfavorable period while Kremlin assures that it has no intention to escalate tensions with regards to the operation of American diplomatic corps in Russia.
Moscow doesn't want to aggravate the situation on the issue of the functioning of American diplomatic missions, Russian Deputy Foreign Minister Sergei Ryabkov said on September 12, RIA Novosti reported.
"We do not want to turn this into a subject for another surge of emotions and disputes," Ryabkov said following the two-day talks in Helsinki with U.S. Deputy Secretary of State for Political Affairs Thomas Shannon.
Earlier, on Monday, Russian Foreign Minister Sergei Lavrov said that Moscow intends to completely equalize the working conditions of American diplomats in Russia and the Russian in the United States.
On the same day, the Kommersant newspaper reported that Russia could limit the number of entry points to the territory of the country for US diplomats, as well as deprive US embassy staff of the opportunity to use dedicated parking around diplomatic missions. In addition, the possibility of reducing the number of American diplomats who are allowed to freely travel outside a certain zone around the diplomatic representations is not ruled out.
The U.S. order for Russia to vacate some of its diplomatic properties was the latest in a series of actions that began when former U.S. president Barack Obama, expelled 35 Russian diplomats in late 2016. Two embassy properties were also closed down and seized by American officials.
In late July 2017, following another round of U.S. sanctions against Russia, Moscow ordered the U.S. to reduce the number of its diplomatic and technical staff in Russia to 455 people.
In response, the U.S. embassy in Moscow announced that non-immigrant visas will no longer be issued in the three U.S. consulates across the country, beginning on August 23. As of September 1, the only place Russians can interview for U.S. visas is at the embassy in Moscow