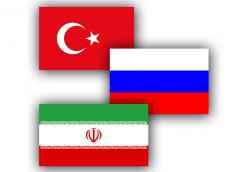 By Azernews
By Ali Mustafayev
Representatives of Russia, Turkey and Iran will meet in Tehran to discuss Syrian crisis. Among the wide range of issues the strengthening of the de-escalation zones will be considered.
The tripartite meeting on the settlement of the Syrian crisis will take place on August 8-9, 2017, according to the report.
The process of the preparation to the meeting was discussed during the meeting in Manila between Foreign Ministers of Russia and Turkey, Sergey Lavrov and Mevlut Cavusoglu.
"With the Turkish counterpart, we discussed the situation with the fulfillment of the agreements as part of the Astana process and discussed preparations for a new meeting of the representatives of Russia, Turkey and Iran, which will take place in Tehran on August 8-9," said Lavrov according to TASS.
Syria has been suffering from the armed conflict since 2011. The conflict erupted between President Bashar al-Assad's government along with its allies and forces opposing the government.
Militants from various armed groups are confronting the Syrian government troops. The IS, YPG and PYD are the most active terrorist groups in Syria.
Over 600,000 people became victims of this conflict, according to UN. These figures confirm that Syrian civil war is one of the most tragic events of the 21st century.
Astana, the capital city of Kazakhstan, hosted several rounds of Syrian talks since January 2017, which have resulted in a memorandum of understanding on creation of de-escalation zones in Syria.
Russia, Turkey and Iran, are sponsoring the negotiations in Astana, dubbed as the Astana Process.