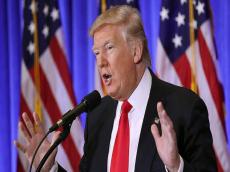 By  Azertac 
President-elect Donald Trump held a free-wheeling, hour-long press conference at Trump Tower Wednesday morning - the first formal press conference he's held since winning the presidency in November.
According to CNBC, Mr. Trump introduced Sherri Dillon of Morgan Lewis, a lawyer who has been working on the plan for the Trump business empire.
Dillon said Mr. Trump's business holdings and investments will be put in a trust before Inauguration Day to be overseen by sons Donald Jr. and Eric, and Trump Organization CFO Allen Weisselberg.
There will be "no new foreign deals" made during the duration of Mr. Trump's presidency, Dillon added, and domestic deals will be subject to "severe restrictions."