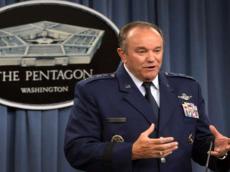 /By AzerNews/

By Mushvig Mehdiyev
A top NATO commander claims that it is essential for the United States to train, advise and equip the national security forces of Georgia, as the country and the region focus on maintaining regional stability and security.
NATO Supreme Allied Commander in Europe and Chief of the U.S. European Command, Philip Breedlove said the U.S. offer to support Georgia and other U.S. partner countries in light of the ongoing instability in the region was essential for each side.
"As the U.S. partners, Georgia, Moldova and Ukraine face a security challenges from Russia unlike the NATO ally nations," he said in his recent report presented to the U.S. Senate Armed Forces Committee.
Breedlove blamed Russia for interfering and putting pressure on all those three countries' efforts to fully implement the political and economic reforms for advancing their democracy and for integrating with Europe.
The post-Soviet nations who aspire to join NATO must also be allowed to continue and accelerate their transition from Soviet-era systems to modern NATO-interoperable systems and equipment, claimed Breedlove.
Having already observed the use of Russian military force in the 1990s and in 2008, Georgia faced a particular threat from Russia's occupation of Abkhazia and South Tskhinvali (South Ossetia), added the NATO commander.
In fact, Breedlove believes, Russia deliberately and actively perpetuates these conflicts by manipulating its support to the participants, while engaging in international diplomatic resolution efforts only to the extent necessary to prevent the resumption of all-out violence.
NATO attaches a special attention to Georgia viewing the country as one of its future members. Regular mutual visits at top official level serve NATO's interests to ensure a sustainable support to Georgia, such as building a training camp in the country's territory.
Russia's official position on the military bloc's active involvement in the regional issues was quite strict, as a top Russian diplomat said the military activity of NATO in Transcaucasia threatens the stability of the region.
In one of his interviews with Tass, a Russian media outlet, Grigori Karasin, Russian deputy foreign minister, said NATO-Georgia military programs always threatened the region's stability and disturb the neighboring countries.
"We called on the Georgian and the U.S. representatives to take a careful approach to this issue, since it can upset the balances in the region leading to serious consequences for the regional stability," Karasin noted.