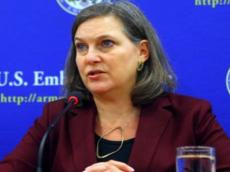 By Mushvig Mehdiyev
A high-ranking U.S. official chided Armenia for their inhumanity towards Azerbaijani captives.
Victoria Nuland, Assistant Secretary of State for European and Eurasian Affairs at the U.S. Department of State, expressed serious concerns in the manner in which Azerbaijani prisoners were treated by their Armenian captors.
"Relevant bodies in Armenia have to take a humanitarian step in regard to Azerbaijani hostages," Nuland said at a press conference in Yerevan.
Armenian special forces killed Azerbaijani citizen Hasan Hasanov and took hostage Shahbaz Guliyev and Dilgam Asgarov in the Shaplar village of the occupied Kalbajar region on July 11, 2014, while they were visiting the graves of their relatives. Following the show trial in the so-called "Nagorno-Karabakh republic" Dilgam Asgarov was sentenced to life imprisonment, and Shahbaz Guliyev to 22 years in prison.
"We want to see tranquility on the contact line, and immediate talks between Armenia and Azerbaijan. Co-Chairs of the Organization for Security and Cooperation in Europe Minsk Group expressed it, as well," Nuland further said.
She added that the U.S. hopes for peace in recent months in favor of the servicemen, their parents, as well as peace and stability in the region.
"I talked with the presidents of both countries about the cease of a bloodshed, which is good for neither side. I have observed progress in both capital cities during my current visit," Nuland added.
At a press conference in Baku earlier on February 17, Nuland said Azerbaijani prisoners, held by Armenia, should be returned.
Nuland has also touched upon the Armenian president's recent withdrawal of Armenian-Turkish protocols, saying it is important for Washington that Armenia has not withdrawn from the process of normalization of its relations with Turkey. She added that it is important for both countries, as well as the region.

On February 16, Armenian President Serzh Sargsyan pulled out the protocols on normalization of bilateral relations and the establishment of diplomatic relations signed with Ankara in 2009 from the parliament's agenda. He blamed the Turkish government for lack of a political will to ratify and implement them without preconditions.
Turkish Prime Minister Ahmet Davutoglu said on February 13 that the Turkish government would open the border with Armenia only if the latter returns at least one of the seven regions around Nagorno-Karabakh to Azerbaijan.
Seems, the Turkish rulers' fair precondition is unacceptable for Armenia, which continues its aggressive policy in the region by keeping under occupation 20 percent of Azerbaijan's internationally recognized territory.
Some political groups in Armenia and its worldwide diaspora insist that Armenia should remove its signature from the signed agreements.
Nonetheless, Nuland put forward the U.S. stance on this issue, saying: "It is important that Armenia has not withdrawn from the process. Continuation of the process is really important for the U.S."