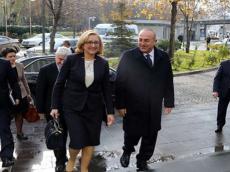 By Mushvig Mehdiyev
Georgian Foreign Minister Tamar Beruchashvili, who is on an official visit to Turkey, discussed the multi-sided relations between the two countries.
She met with Turkish President Recep Tayyip Erdogan and Foreign Minister Mevlut Cavushoglu in Ankara on December 10.
Beruchashvili and Erdogan discussed the strategic relations between Georgia and Turkey, welcoming the creation of the High-Level Strategic Partnership Council, which will promote wider cooperation between the two countries.
The first meeting of the new council led by the prime ministers of the neighboring countries is expected to be held in the first half of 2015.
The sides also mulled the energy projects, noting that the joint economic and energy projects were important not only for the improvement of bilateral relations, but also for the development of the whole region.
Erdogan reaffirmed his firm support for Georgia's sovereignty and territorial integrity, as well as its integration into the European and Euro-Atlantic structures.
Berchashvili called on the international community to condemn the so-called treaty on "Alliance and Strategic Partnership" signed by Russia and Georgia's breakaway Abkhazia region on November 24.
Addressing a joint press conference with the Turkish foreign minister in Ankara, Beruchashvili said the Russia-Abkhazia illegal agreement inflicted a blow on Georgia's territorial integrity.
"Its provisions prove Russia's intention to integrate Abkhazia into its economic, social and legal system." Beruchashvili added that Georgia needs the whole international community to strongly condemn the Abkhazia's occupation.
Cavushoglu, in turn, noted that Turkey did not recognize the agreement signed between Russia and Abkhazia. He also reiterated Turkey's backing to Georgia's membership to NATO.