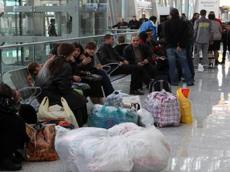 By AzerNews
Demographic crisis has reached its peak in Armenia as estimations say there will be no first-graders in the Berkaber village of Tavush region this year.
The unpleasant tendencies are observed in other parts of the country on the background of the decline of birthrate.
Immigration is believed to be one of the main reasons behind birthrate decline in Armenia. Deteriorating socio-economic situation, high poverty rate, unemployment and lack of a promising prospect are the main drive for desertification of South Caucasus country.
Mass immigration is a great concern for the government which has decided to encourage large families across the country with fertility rate (births per woman) at 1.6 - far from the normal 2-2.1.
However, Prime Minister Hovik Abrahamyan later put on hold the program for an indefinite time due to financial hardship, depriving large families of hope to survive.
From 2008 to 2013, immigration reached 30.000-35.000 people per year. The statistics of the first quarter of 2014 is also very unpleasant. The number of citizens who left Armenia in the first quarter of 2014 was 21.218 more than the same period in 2013.
As many as 45,000-50,000 people leave Armenia each year, official statistics suggests.
The Armenian State Migration Service recently reported that the share of citizens leaving the country with their family was 40 percent of the total immigration outflow some years ago but it has risen to 60 percent now.
The demographic crisis is only one of many crises that Armenia is grappling with.