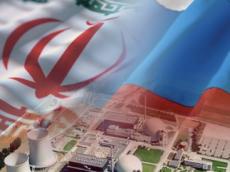 The foreign ministers of Iran and Russia stressed on the needs to boost the two countries' bilateral relations, especially trade ties.
Nuclear talks were also another main topic of the officials' discussions in the Russian capital, Moscow, Iran's IRIB News Agency reported on August 29.
Iran's Foreign Minister Mohammad Javad Zarif said that Tehran's peaceful nuclear program didn't stop in the face of sanctions, and will never be halted.
"Tehran's negotiations with the P5+1 countries are aimed at resolving any ambiguity about the Iranian nuclear program," he said.
"The illegal sanctions against the country are fruitless, he said, adding that the number of Iran's centrifuges has increased from 200 to 2,000 during the past eight years.
Russian Foreign Minister Sergey Lavrov, for his part, said that Iran has the right to peacefully develop nuclear energy.
"Russia will try to lift the international sanctions imposed on Iran," he added.
Iran and P5+1 (the five permanent members of the UN Security Council comprising of China, France, Russia, Britain, the US Plus Germany) are likely to hold a new round of nuclear talks on the sidelines of the upcoming UN General Assembly Session in September.
Iran and the P5+1 group of countries sealed an interim deal in Geneva on November 24 to pave the way for the full resolution of the West's decade-old dispute with Iran over the country's nuclear energy program, Press TV reported.
The Geneva deal took effect on January 20 and expired on July 20. However the two sides agreed to extend their talks for four months till Nov. 24 to reach a permanent deal on Iran's disputed nuclear program.
In exchange for Iran agreeing to limit certain aspects of its nuclear activities, the US and its allies agreed to lift some of the existing sanctions against Tehran.