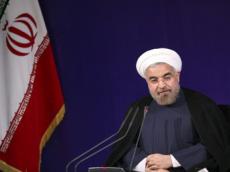 Iran's President Hassan Rouhani said that the Islamic Republic wants to normalize its relations with the entire world, in particular with the countries who respect Iranian people's rights.
"We are ready to eliminate tensions with countries with which we had tensions for many years, if they respect our people's rights," Iran's Mehr news agency quoted Rouhani as saying Aug.11.
Rouhani underscored that Iran is even ready to normalize its ties with these countries in the future, if its national interests are guaranteed.
The president made the remarks while addressing the annual meeting of ambassadors and representatives of Iran abroad.
Rouhani did not specify with which country or countries Iran may normalize its ties.
The Islamic Republic has normal relations with the European countries, meanwhile Iran cut off diplomatic ties with the U.S. and Israel following the 1979 Islamic Revolution.
Iranian officials have repeatedly announced that they will not recognize Israel as a sovereign nation.
The US president Barack Obama and Rouhani has a phone conveesation in September 2013. It was the highest-level contact between the two countries since the 1979 revolution and showed that both sides are serious about reaching a pact on Iran's nuclear program.
The United States and its allies have imposed tough economic sanctions on Iran over suspicions that Tehran intends to develop a nuclear capability. However, Iran says the program is purely peaceful.
Rouhani went on to add that the country's diplomacy system should introduce the real figure of the Islamic Republic to the world which is distorted in past years.
"Our red line is nothing but national interests," Rouhani said, emphasizing that Iran will act in accordance with its national interests.

/Trend/