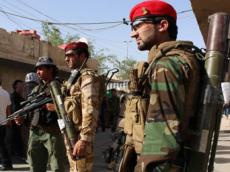 Iraqi troops, security forces and tanks surged into Baghdad on Sunday as political turmoil deepened over who should lead the country.
Military tanks were deployed to several neighborhoods in central Baghdad, two Iraqi police officials told CNN. The officials said there are also significantly more troops in Baghdad's Green Zone, the secure area where many government buildings and military headquarters are located.
The stepped-up troop presence comes as Iraqi forces battled Islamist militants in northern Iraq, and Prime Minister Nuri al-Maliki accused Iraq's newly elected President of violating the country's constitution by extending the deadline for Iraq's biggest political coalitions to nominate a candidate for prime minister.
The precise reason for the growing number of troops in the Iraqi capital was unclear.
"It could be a show of force. If you're talking about protecting government buildings, there may be a sense that ISIS forces may be closer than everybody thinks at this point, and so depending on what the undercurrent in Baghdad right now, that could be a great sign for concern," retired Marine Gen. James Williams told CNN's Jim Sciutto. "But it may also be a concern that there's a coup afoot."
CNN's Michael Holmes said al-Maliki could be digging in his heels for a political battle.
"It's not in his DNA to go without a fight. This is a man who's really feeling besieged at the moment. He's cornered on all sides, if you like," Holmes said. "He's got ISIS on his doorstep, in a military sense. He even had the Grand Ayatollah the other day saying politicians should not cling to their posts. But this is a guy who seizes onto power. He holds it."
Obama administration officials have talked repeatedly about how their priority is a political settlement that creates a more inclusive government in Iraq. A deadline to agree on a new prime minister had been set for Sunday.
In a Twitter post Sunday, U.S. Deputy Secretary of State for Near Eastern Affairs Brett McGurk said the United States supported Iraq's President.
"Fully support President of #Iraq Fuad Masum as guarantor of the Constitution and a PM nominee who can build a national consensus," he wrote.

/CNN/