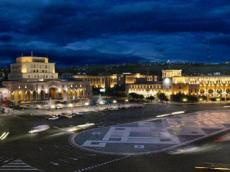 Armenia fears war against Azerbaijan, Georgian political analyst Guram Marxulia believes.
"Armenia is feared military power of Azerbaijan and is not able to fight, as it is in a difficult economic situation. Armenia is unable to last long time in the war," he told AzerNews.
He said recent lightning war showed that Azerbaijan is able to restore its territorial integrity within hours.
Marxulia is not optimistic about the significant results of the upcoming meeting of Azerbaijani and Armenian presidents.
"At the meeting Armenia will ask for some respite, as it is not ready to fight," he noted.
He went on to say that the international organizations should force Armenia to release Azerbaijani hostages.
"Armenia has involved Azerbaijani civilians in the conflict, which is unacceptable. International organizations should impose sanctions against Armenia," he concluded.
Armenian armed forces launched a diversion on the night of July 31-August 1, when reconnaissance and sabotage groups tried to cross the contact line of the Azerbaijani and Armenian troops through the territories of Aghdam and Terter regions.
Armenia's reconnaissance and sabotage group attacked the positions of Azerbaijani armed forces in the direction of Azerbaijan's Aghdam and Agdere regions on the night of August 1-2. Azerbaijan managed to locate the group and the sabotage attempt was prevented.
During the last four days, Azerbaijani positions have been constantly under attack, and 13 servicemen have been killed, several more were wounded. Armenian side suffered more losses while trying to hide this fact from the public.
The conflict between the two South Caucasus countries began in 1988 when Armenia made territorial claims against Azerbaijan. As a result of the ensuing war, in 1992 Armenian armed forces occupied 20 percent of Azerbaijan, including the Nagorno-Karabakh region and seven surrounding districts.
The two countries signed a ceasefire agreement in 1994. The co-chairs of the OSCE Minsk Group, Russia, France and the U.S. are currently holding peace negotiations.
Armenia has not yet implemented the U.N. Security Council's four resolutions on the liberation of the Nagorno-Karabakh and the surrounding regions.

/Trend/