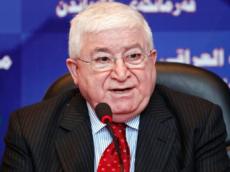 Kurdish politician Fouad Massoum has been named the new president of Iraq following a parliamentary vote.
Massoum, 76, is one of the founders of current President Jalal Talabani's Patriotic Union of Kurdistan party. He is considered a soft-spoken moderate, known for keeping good relations with Sunni and Shiite Arab politicians.
The vote for president -- a largely ceremonial post -- was delayed for a day when the Kurdish bloc requested more time to select a candidate. They named Massoum as their pick late Wednesday.
Under an unofficial agreement dating back to the 2003 U.S.-led invasion, Iraq's presidency is held by a Kurd while the prime minister is Shiite and the parliamentary speaker is Sunni.
Also in Iraq on Thursday, gunmen attacked a prisoner convoy north of Baghdad, setting off a gunbattle with troops in which scores of prisoners and eight soldiers were killed, brutally underscoring Iraq's instability as lawmakers convened to elect a new president.
U.N. chief Ban Ki-moon arrived in Baghdad earlier Thursday, urging lawmakers to "find a common ground" so they can address the crisis sparked by the rapid advance of the Islamic State extremist group and allied Sunni militants across much of northern and western Iraq last month.

/AzerTAc/