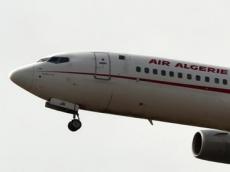 The wreck of an Air Algerie plane that went missing with 110 passengers on board has been found in Mali near the Burkina Faso border, according to a coordinator for the crisis unit in Ouagadougou.
"We have found the Algerian plane. The wreck has been located ... 50 kilometres (30 miles) north of the Burkina Faso border" in the Malian region of Gossi, said General Gilbert Diendiere from the Burkina Faso army.
Mr Diendere said the team found the burned out carcass of the plane where the informers had said it might be. They had not found any survivors at the crash site but that, as darkness was falling, they were unable to investigate whether or not there were any who may have been rescued locally.
"The mission found, on the site, pieces of the plane, this team found on the site, sadly, remains of dead bodies. We were not able to evaluate exactly what is the situation as night began to fall and this team has confirmed that it has seen the remains of the plane, totally burned out and scattered on the ground," he said.
There were few clear indications of what might have happened to the aircraft.
Burkino Faso Transport Minister Jean Bertin Ouerago said it asked to change route at 2.38am Irish time because of a storm in the area.
"I can confirm that it has crashed," the Algerian official told Reuters, declining to be identified or give any details about what had happened to the aircraft on its way north.
Almost half of the passengers were French citizens, an airline official said.
Niger security sources said planes were flying over the border region with Mali to search for the flight.
France's aviation watchdog said this afternoon that the jet was checked "two or three days ago" and was "in good condition", France's aviation watchdog said.
Patrick Gandil, head of the French civil aviation authority, said the McDonnell Douglas MD-83 "passed through France in Marseille two or three days ago.
"We examined it and we found almost nothing, it was really in good condition," Mr Gandil said.
Algeria's state news agency APS said authorities lost contact with flight AH 5017 an hour after it took off from Burkina Faso, but other officials gave differing accounts of the times of contact, adding to confusion about the plane's fate.
Swiftair, the private Spanish company that owns the plane, confirmed it had lost contact with the MD-83 operated by Air Algerie, which it said was carrying 110 passengers and six crew.


*****
25.07.2014
09:57
Algeria early on Friday officially announced that a plane operated by its national carrier Air Algerie had crashed near the border between Burkina Faso and Mali early on Thursday.
The country's foreign minister Ramtane Lamamra confirmed earlier news about the plane crash.
He said passengers from 13 countries were on board of the crashed plane and that search teams had managed to determine the location of its wreckage.
"The plane did not have any technical problems," Lamamra said. "It was subjected to a technical examination in France a few days ago," he added.
The Algerian Foreign Minister said that everybody in Mali, including militant groups in the turbulent African country, cooperated with Algerian authorities in searching for the wreckage of the plane.
Algeria's Transport Minister Amar Ghoul said earlier that specialized search teams investigate information they acquired from locals in northern Mali that they saw the wreckage of a plane in the vicinity of the Malian city of Djibo.
Air Algerie said early on Thursday that it lost contact with Flight AH 5017 - which took off from Ouagadougou, Burkina Faso, and was heading to Algiers.
The plane was carrying 116 passengers, including 50 French nationals, and six crew members on board.
Air controllers say their last contact with the plane took place some 50 minutes after takeoff.
According to the Weather Channel, Flight AH 5017 entered a stormy area shortly after takeoff that featured "gusts of strong winds and high electrical activity."

*****
24.07.2014
17:35
Authorities have lost contact with an Air Algerie flight en route from Ouagadougou in Burkina Faso to Algiers with 110 passengers on board, Algeria's APS state news agency and a Spanish airline company said on Thursday.
APS said authorities lost contact with flight AH 5017 an hour after it took off from Burkina Faso, although other officials gave other timings, adding to confusion about the fate of the flight and where it might be.
Spanish private airline company Swiftair confirmed it had no contact with its MD-83 aircraft operated by Air Algerie, which it said was carrying 110 passengers and six crew.
The company said in a notice posted on its website that the aircraft took off from Burkina Faso at 0117 GMT (2117 ET) and was supposed to land in Algiers at 0510 GMT but never reached its destination.
An Algerian aviation official said the last contact Algerian authorities had with a missing Air Algerie aircraft carrying 116 people from Burkina Faso to Algiers was at 0155 GMT when it was flying over Gao, Mali.
Aviation authorities in Burkina say they handed the flight to the control tower in Niamey, Niger, at 1:38 am (0138 GMT). They said last contact with the flight was just after 4:30 a.m. (0330 GMT).
Burkinabe authorities have set up a crisis unit in Ouagadougou airport to provide information to families of people on the flight.
A diplomat in the Malian capital Bamako said that the north of the country - which lies on the plane's likely flight path - was struck by a powerful sandstorm overnight.
Issa Saly Maiga, head of Mali's National Civil Aviation Agency, said that a search was under way for the missing flight.
"We do not know if the plane is Malian territory," he told Reuters. "Aviation authorities are mobilized in all the countries concerned - Burkina Faso, Mali, Niger, Algeria and even Spain."
Whatever is the fate of the flight, the loss of contact is likely to add the to jitters in the airline industry after a Malaysia Airlines plane was downed over Ukraine last week, a TransAsia Airways crashed off Taiwan during a thunderstorm on Wednesday and airlines canceled flights into Tel Aviv due to the conflict in Gaza.
/Reuters/