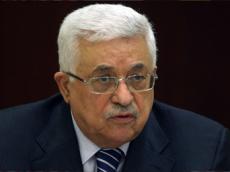 Palestinian President Mahmoud Abbas will be in Ankara on Friday as part of a two-day official visit upon the invitation of Turkish Prime Minister Recep Tayyip Erdogan, Anadolu Agency reported.
Abbas is scheduled to meet President Abdullah Gul, Prime Minister Erdogan and Foreign Minister Ahmet Davutoglu in Istanbul on Friday, prime ministry sources said Thursday.
The meetings will focus on the latest developments in Palestine, Israeli strikes on the Gaza Strip and the Palestine-Turkey relations.
The death toll from Israel's ongoing onslaught on the blockaded Gaza Strip has risen to 237 since hostilities began on July 7, the Palestinian Health Ministry said Thursday.
55 children and 26 women have been among those killed by the ongoing assault on the besieged coastal enclave.
Mahmud Abbas, member of Fatah, has served as the President of Palestine since 2005. This will be his first visit to Turkey since Fatah and Hamas, two main Palestinian political factions, signed a reconciliation agreement in April.

/Trend/