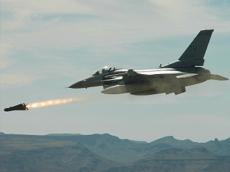 Israeli war jets destroyed early on Tuesday the homes of two Palestinian militants in the southern Gaza Strip towns of Rafah and Khan Younsi, witnesses and security officials said, XInhua reported.
Al-Hashash family members said they received a phone call from an anonymous caller, who spoke broken Arabic and identified himself as an Israeli security official, requiring the family to evacuate the house in Rafah town within five minutes.
They said after five minutes, a warning missile was fired at the house and when the family evacuated the house, Israeli war jets struck the construction, which was completely turned into rubble.
Security officials said a second house, which belongs to al- Abadellah family, was also struck by Israeli war jets' missiles and was leveled to the ground after the family evacuated it east of the southern Gaza town of Khan Younis.
Al-Aqsa Radio of Hamas that airs from Gaza reported that at least nine Palestinians were injured after the house was destroyed, adding that they were taken to the hospital in Khan Younis for medical treatment.
Overnight and early on Tuesday, Israeli war jets continued targeting Gaza militants' facilities. Witnesses said that dozens of Israeli missiles struck lands used for storing weapons and launching rockers into Israel. No injures reported.
War jets buzz and a series of explosions were heard all over the Gaza Strip, residents of the coastal enclave said.
Israeli media had earlier reported that the Israeli army decided to enlarge its military operations in the Gaza Strip in response to dozens of rockets, projectiles and mortars fired earlier on Monday into Israel.
For the first time since tension started between Israel and the Palestinians, Hamas armed wing al-Qassam Brigades said in a press statement on Monday that it fired dozens of rockets into Israel's depth.
"Al-Qassam Brigades strike the Israeli towns of Ashdod, Ashkelon and Netivot by dozens of rockets in response to the Zionist aggression," the group said in an emailed press statement sent to reporters.
Izat al-Resheq, a senior Islamic Hamas movement's leader wrote on his personal page on Facebook "if Israel launches a new war on the Gaza Strip, Hamas movement is ready to fight to the end."

/Trend/