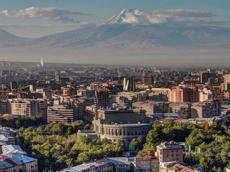 By AzerNews
Mass migration outflows from Armenia have led to unpleasant tendencies in the country particularly in the real estate market.
"Only 17.980 real estate deals were concluded in May declining by 3.7 percent compared to April," local media reported.
Local real estate agencies see the emigration outflows as the main reason behind this significant reduction in number of the real estate deals.
"Most people leave the country after selling their houses. But today there is no buyer. Meanwhile, there is no one who wants to rent a flat. There is no tourist as well," the agencies reported.
Armenia is still not able to stop the mass immigration. From 2008 to 2013, immigration rate reached to 30,000-35,000 people per year. The main reasons behind the mass migration outflows include: the complicated socio-economic situation, high poverty, growing unemployment rate and absence of hope for a bright future.
Local experts believe that the upcoming hike in electricity tariffs by 10 percent will create a new wave of migration outflows. The prices will again go up by 10 percent in spring of 2015, as Armenia's nuclear power plant will be closed for repair for 1.5-2 years.
Migration is also negatively affecting the health conditions in Armenia. The Health Ministry reported a four-time increase in the cases of enterovirus infections in the country.
Furthermore, some 75 percent of HIV infection in the country is caused by migration. People who return home are the main carriers of the virus.