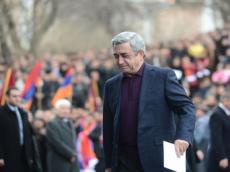 By AzerNews
Armenia's President Serzh Sargsyan is concerned about the possible protests in the country following the hike in the electricity tariffs by 10 percent to be implemented as of August 1.
Sargsyan offered the officials in charge to seek options to mitigate the effects of electricity price hike on socially vulnerable families, local media reported.
Prime Minister Ovik Abramyan instructed the ministers of finance, economy, labor and social affairs to elaborate a draft decree to increase allowances for nearly 105,000 socially vulnerable families.
Local experts said the decision to increase the electricity tariffs is groundless and unjust.
An increase in electricity tariffs is inevitable, the Public Services Regulatory Commission reported. Otherwise the country's electric networks would be in a difficult situation with their debt reaching 16 billion 600 million drams ($40,291,354).
Local media said, the electricity price will again go up after some months because Armenia's nuclear power plant will be closed for repair for 1.5-2 years.
"Most probably, the electricity tariffs will again increase by 10 percent in spring of 2015," media report said.
The opposition parties believe that price increase will cause a chain reaction; a rise in the price of life and emigration. The parties have announced that they will actively show their protest in autumn.
The Armenian National Congress has promised to make a revolution in September.
"I strongly declare that in September we will make a revolution, as there is no other way to deal with those who are robbing us," Secretary of the Congress Aram Manukyan told recently local media.
Sargsyan will try to calm down the angry nation by all means to avoid unpleasant hot political autumn for his regime.