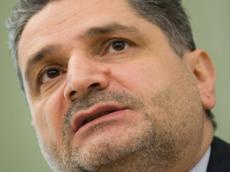 By AzerNews
U.S. Armenians are against the appointment of Armenia's former Prime Minister as the new ambassador to this country.
President Serzh Sargsyan appointed Tigran Sargsyan (2008-2014) as Armenia's Ambassador to the U.S. on June 26.
Local media and former diplomats believe that the appointment of the former PM is unacceptable, because he is involved in an offshore scandal.
While Sargsyan packs his suitcases to leave Yerevan for Washington, the Armenian Forum of the U.S. is collecting signatures against his appointment, local media reported.
"We appeal to inform the U.S. that former PM Tigran Sargsyan is involved in fraud of billions of dollars, including scandals in Cyprus," the forum's statement reads. "Using his power in Armenia for personal gain, he has managed to avoid punishment in Armenia."
The Armenian Forum of the U.S. wants U.S. to prevent Sargsyan's attempts to escape justice.
"There were attempts in the Armenian government circles to assist Sargsyan to avoid liability and obtain a post in the U.S.," the statement reads. "We demand the U.S. government to refuse Tigran Sargsyan's appointment."
The Forum reported that hundreds of citizens have already signed the appeal.
Sargsyan will leave for the U.S. in two days without his family, local media reported.
"First, the issue of his residence should be settled and then he must present his credentials to the U.S. authorities," media report said.
So, Sargsyan will receive a "warm welcome" in Washington from his compatriots living in the U.S.