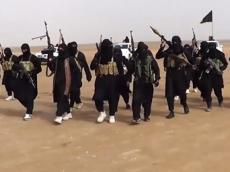 Armed insurgents belonging to the Islamic State of Iraq and Syria (ISIS) are reportedly advancing towards the Iraqi capital after they seized a nearby town in the eastern Diyala governorate, security sources said Friday.
The sources told Al Arabiya News Channel that ISIS militants allegedly gained control over the town of al-Mansuirya, which is only an hour away from Baghdad.
They also said battles were raging in the town between ISIS militants and forces loyal to Prime Minister Nouri al-Maliki.
The recent advance comes after Iraqi forces on Thursday launched an airborne assault on Tikrit and recaptured a university campus that fell under ISIS control, Reuters quoted witnesses as saying.
Government forces have also been fighting back, relying on elite commandos flown in by helicopter to defend the country's biggest oil refinery at Baiji.
Iraq's million-strong army, trained and equipped by the United States, largely evaporated in the north after Sunni fighters led by ISIS launched their assault with the capture of the north's biggest city Mosul on June 10.
A successful operation to regain territory inside Tikrit would deliver the most serious blow yet against the insurgency which for most of the past two weeks has seemed all but unstoppable in the Sunni heartland north and west of Baghdad.

/Trend/