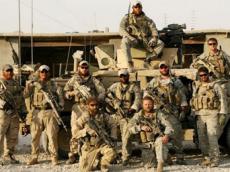 The Pentagon says the first groups of up to 300 US special operations troops have commenced their mission in Baghdad to assist Iraqis to fight militants from the so-called Islamic State of Iraq and the Levant (ISIL), Press TV reported.
Pentagon spokesman John Kirby told reporters on Tuesday that 40 troops have arrived in Baghdad and another 50 will be deployed in the next few days.
The troops are drawn from US Special Operations Forces (SOF), but US officials are calling them military advisers.
"We have begun to deploy initial assessment teams" and two teams "have started their new mission", Kirby said.
Kirby said that the first two teams drawn from the US embassy in Iraq along with an additional 90 troops, who arrived on Tuesday, will set up a joint operations center in Baghdad.
According to Kirby, the troops will only assess the state of the Iraqi army and will not stage any attacks against the militants. "This isn't about rushing to the rescue."
"These teams will assess the cohesiveness and readiness of Iraqi security forces, hire headquarters in Baghdad, and examine the most effective and efficient way to introduce follow-on advisers," he noted.
Kirby went on to say that the military troops will pass on their findings to commanders within "the next two to three weeks."
He also noted that an additional 50 troops are scheduled to be deployed in the next few days.
US President Barack Obama said last Thursday he would send up to 300 military troops to Iraq to help the Iraqi military fight ISIL militants.
Kirby also said that the US and Iraq have struck a deal under which legal protections will be provided for American commandos deploying into Iraq.
However, Baghdad has denied reports that it has granted immunity from prosecution to the US troops. Baghdad says the reports are baseless claims made by some media outlets.
The United States had been seeking immunity from local prosecution for forces in Iraq. However, Baghdad's refusal to grant immunity to thousands of US troops, who were to remain in the country beyond 2011 under the pretext of training local forces, compelled Washington to pull out all troops from Iraq.
According to Kirby, the US is flying between 30 to 35 ISR (Intelligence, Surveillance and Reconnaissance) flights per day around Iraq.