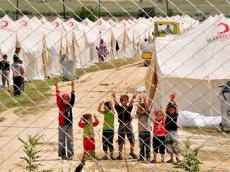 Syrian refugees are a global problem and international institutions are not paying due attention, Turkey's Prime Minister Recep Tayyip Erdogan has told EU ambassadors meeting in Turkey Anadolu Agency reported
His comments on Tuesday came as Syria continues to be gripped by almost constant fighting which has left more than 6.5 million people internally displaced, according to the United Nations. Nearly 2.5 million Syrians are also registered as refugees in neighboring countries including Turkey, Lebanon and Iraq.
"Turkey has spent $2.5 billion on Syrian refugees so far while the international community, especially EU countries, have not given significant aid, donating only $250 million," Erdogan said.
More than 100,000 people have been killed during the three-year conflict in Syria, which began after the regime launched a violent crackdown in response to anti-government protests in March 2011, triggering a conflict that spiraled into a civil war.
Criticizing Western and Gulf countries for not calling the removal of Egypt's first democratically elected President, Muhammad Morsi, a coup and congratulating the coup leader on his so-called election, Erdogan said: "There is no meaning in congratulating the leadership of the Egyptian coup, and we do not approve it."
- 'Test of sincerity'

Morsi was brought down after a military coup led by General Abdul-Fettah Al Sisi which was financially backed by Gulf countries.
Morsi was Egypt's first elected president after the Freedom and Justice Party, backed by the Muslim Brotherhood, won the election with 51 percent of the votes.
Emphasizing Turkey's importance in the security of energy supplies to Europe, Erdogan said: "The opening of the energy chapter in Turkey's EU membership negotiations will be a test of EU's sincerity for energy security."
He said that Turkey's EU membership was not only a regional challenge, but also a global one, in the fight against racism in Europe and for betterment of the alliance of civilizations.
There was also a large scope for cooperating on energy security insofar as Turkey is a key transit country for natural gas from the EU's point of view, and Europe is the most important end market for natural gas going through Turkey, he said.

/Trend/