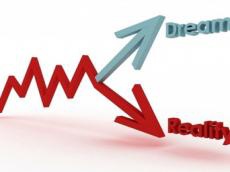 By AzerNews
The Armenian authorities keep dreaming about significant economic growth, while economic forecasts are gloomy. Ensuring economic growth has turned into an impossible mission for the Armenian government.
The country is still unable to achieve economic growth despite President Serzh Sargsyan's instructions on ensuring seven percent economic growth in 2013-2017.
Sargsyan continues to instruct the government about the economic growth. He waits for the stable economic growth from the new government. But his next instruction seems also doomed to failure, as the country lacks economic resources to achieve considerable economic growth.
Furthermore, the international financial organizations, as well as the Armenian Central Bank are not optimistic that the government will be able to ensure the projected five percent economic growth in 2014.
The International Monetary Fund believes that Armenia's new government is not capable of ensuring a five percent economic growth in 2014. Growth rate will be lower than 4.2 percent, the fund predicted.
Prime Minister Ovik Abramyan also dreams about the economic growth. He recently said that the government is waiting for continuous economic growth within the subsequent years. Abramyan went to dream about the large scale investment programs, while the country is rapidly losing its attractiveness for foreign investments.
He also noted that Armenian citizens are the "base of the government's policy". Abramyan's remark seems quite suspicious on the background of his government's increasing expenses since its formation. Local media has found out that only the furniture set of Abramyan's office amounted at 24 mln drams ($58,608), while former PM Tigran Sargsyan allowed himself a furniture set at 1.6 mln drams ($3.907).
Abramyan provides himself with a luxury life and cabinet, while the "base of the government's policy" - citizens' well-being - is deteriorating.
The Armenian authorities used to report about the significant economic growth, while the economy was paralyzed. There is no basis for Armenia's economic development, but the authorities prefer dreaming rather than taking effective measures to revive the economy. The authorities keep dreaming about impossible, as there is no harm in dreaming.