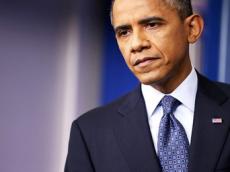 U.S. President Barack Obama met with Congressional leaders on Wednesday to discuss the U.S. response to advances by Sunni militants in Iraq, Xinhua reported.
The meeting included Senate Majority Leader Harry Reid, House Speaker John Boehner, Democratic Leader Nancy Pelosi and Senate Minority Leader Mitch McConnell, the White House said in a statement.
Obama updated the leaders on the U.S. efforts to respond to the threat from to the Islamic State in Iraq and Levant (ISIL) by urging Iraq's leaders to set aside sectarian agendas and to come together with a sense of national unity, it said.
The president also reviewed U.S. efforts to strengthen the capacity of Iraq's security forces to confront the threat from ISIL, including options for increased security assistance, it added.
Obama pledged to continue consulting closely with Congress going forward, it said.
The situation in Iraq continues to deteriorate since bloody clashes between insurgent groups and government forces broke out earlier this month. Large swathes of Iraq's northern territories are now in the hands of militant groups, fueling fears the country may split and a full-blown sectarian war may erupt in the Middle East.
Last week, Obama said he would decide in the days ahead whether to use U.S. military force to hold off the tide of radicals, although he ruled out putting U.S. boots on the ground.
On Wednesday, National Security Council spokeswoman Caitlin Hayden said Obama "has not made a decision" on airstrikes.
"At this stage, the only thing that remains ruled out is more U. S. troops in a combat role," news website The Hill quoted Hayden as saying.
She reiterated that the Obama administration wants to see the Iraqi government work with other groups for a solution. "As we've said, the solution that is needed is an Iraqi one -- any U.S. military options are in support of that strategy."

/Trend/