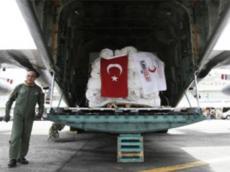 Turkey sent humanitarian aid to the Iraqi Turkmens, Turkish Foreign Minister Ahmet Davutoglu said on June 18, Turkish news agency Anadolu reported.
"At the first phase, some 20 tons of humanitarian aid were sent," Davutoglu added.
Previously, the Iraqi Turkmen Front head Ershad Salihi urged Turkey to protect the Iraqi Turkmens.
"The citizens of all ethnic groups are supported by the Iraqi government and only the Iraqi Turkmens are deprived of this," he said.
Salihi stressed that the Iraqi Turkmens, especially those residing in the country's northern part, do not feel the Iraqi central government's protection.
The Iraqi Turkmens account for 11 percent of the country's population.
The Iraqi army lost control over the Samarra city on June 13.
This is the third city in Iraq, which is completely controlled by ISIL militants. Earlier, the ISIL captured the cities of Mosul and Tikrit.
Despite Kirkuk is controlled by Peshmerga (special forces, subordinate to the Kurdish administration), the fights are continuing in several residential areas in northern Iraq between Peshmerga and the ISIL.
On June 10, the ISIL militants captured the administrative center of the Mosul of the northern Iraqi Province of Ninawa, a number of small settlements, as well as part of the Salah al Din Province, including its center - the city of Tikrit.
The militants began controlling the Iraqi town of Tal Afar, densely populated by Turkmens, on June 16.
/Trend/